Patient support services
ServierONE Patient Support Services is a program that helps with access and financial assistance
ServierONE Patient Support Services for TIBSOVO® includes:
Support with insurance coverage and reimbursement
Financial assistance to help patients pay for TIBSOVO
Prescription fulfillment through our network of specialty pharmacies and distributors
Ordering and distribution network
National Drug Code (NDC)
NDCs
Dosage strength
Description
10-digit code: 72694-617-60
11-digit code: 72694-

0

617-60
250 mg/tablet
250-mg tablet: Blue oval-shaped film-coated tablet debossed "IVO" on one side and "250" on the other side
The

red zero

converts the 10-digit NDC to the 11-digit NDC. Some payers may require each NDC to be listed on the claim. Payer requirements regarding the use of NDCs may vary. Electronic data exchange generally requires use of the 11-digit NDC.
Product information
How TIBSOVO® (ivosidenib tablets) is supplied: 250-mg tablets, supplied in 60-count bottles (30-day supply) with a desiccant canister
Storage: Store at 20 to 25 ºC (68 to 77 ºF)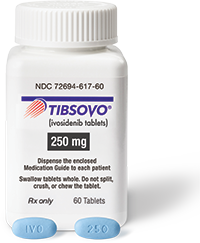 Distribution network for TIBSOVO
TIBSOVO is only available through our specialty distributors and network specialty pharmacies.
Specialty distributors: TIBSOVO is available through specialty distributors for shipment directly to office- or hospital-based pharmacies.
McKesson Specialty Health

McKesson Plasma and Biologics

Cardinal Health (US)

Acute (Hospital)

Physician Office (Oncology)

Cardinal Health (Puerto Rico)

AmerisourceBergen/Oncology Supply

ASD Healthcare Customer Service
Network specialty pharmacies: TIBSOVO ships directly from the specialty pharmacy to your patient's home or preferred location.
Patient caregiver/resources
TIBSOVO resources for your patients and their caregivers
These resources may be useful to patients and caregivers throughout treatment with TIBSOVO
TIBSOVO Patient Brochure for AML

TIBSOVO Medication
Guide

Differentiation Syndrome Reference Card
TIBSOVO resources for you and your practice
TIBSOVO Prescribing Information

TIBSOVO Product Guide for AML

TIBSOVO Differentiation Syndrome white paper
Educational videos
Learn about a targeted approach to treating newly diagnosed and R/R AML with IDH1 mutations
Watch the interview with Dr. Gary Schiller,
MD, FACP
Learn about a targeted approach to treating R/R AML with IDH1 mutations
Watch the interview with Dr. Muthu Veeraphuthiran, MD, MPH, FACP
Some participants in these videos are current or former employees of Agios or Servier.
Please see Full Prescribing Information, including BOXED WARNING.
Welcome to
Target: AML

—a podcast series from TIBSOVO

Target: AML is a podcast all about TIBSOVO and AML—from discussing the disease to uncovering the challenges and rewards of treating patients.
Episode 1: Jonathan Abbas, MD & Mark Levis, MD, PhD
On this episode of Target: AML, Jonathan Abbas, MD, and Mark Levis, MD, PhD, discuss the challenges and rewards of treating R/R mIDH1 AML.