IDH1 mutations can play a critical role in the development of AML1-4
IDH1 mutations block normal differentiation of myeloblasts5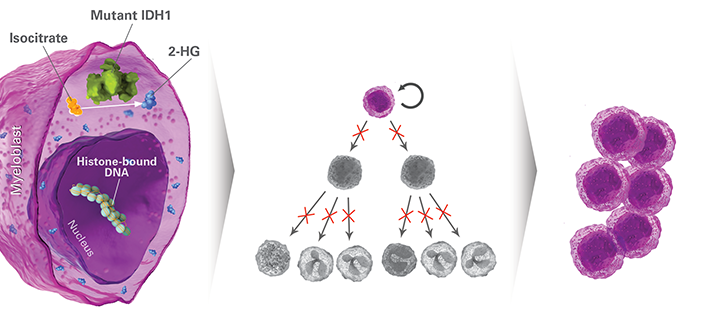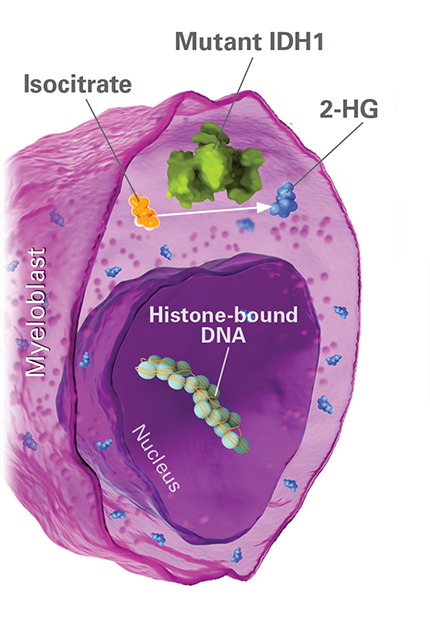 The metabolic environment of the myeloblast is abnormal
Increased levels of 2-HG cause DNA and histone hypermethylation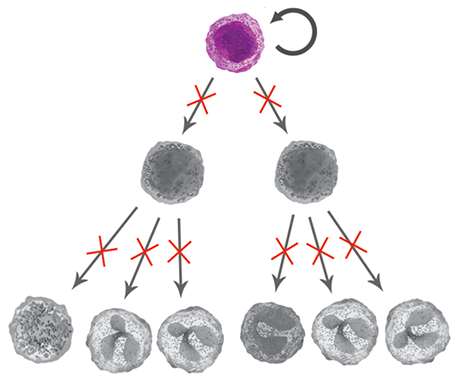 Normal differentiation of myeloblasts is blocked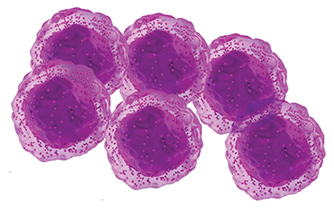 Unchecked proliferation of undifferentiated myeloblasts occurs
IDH1 mutations are driver mutations and occur in 6% to 10% of patients with AML2
IDH1 mutations have been associated with a negative prognosis in AML4
2-HG, 2-hydroxyglutarate.
Test for IDH1 mutations at diagnosis so you can offer targeted therapy to appropriate patients6
Patients without IDH1 mutations at diagnosis should be retested at relapse because a mutation in IDH1 may emerge during treatment and at relapse7
In the pivotal trial, IDH1 mutations were identified by a local or central diagnostic test and confirmed retrospectively using the Abbott RealTime™ IDH1 assay, which is the FDA-approved test for selection of patients with AML for treatment with TIBSOVO7
Both the NCCN Clinical Practice Guidelines in Oncology (NCCN Guidelines®) and ASH‑CAP Guidelines recommend testing for IDH1 mutations in patients with AML6,8
NCCN Guidelines® recommend ivosidenib (TIBSOVO) for IC-ineligible newly diagnoseda and R/R AML patients with an IDH1 mutation8
ASH, American Society of Hematology; CAP, College of American Pathologists; NCCN®, National Comprehensive Cancer Network®.
aNot eligible for or declines intensive remission induction therapy. See NCCN Guidelines for full recommendation including age.
TIBSOVO® (ivosidenib tablets) targets the mutant IDH1 enzyme to restore myeloid differentiation5,7
TIBSOVO restores differentiation of myeloblasts5,7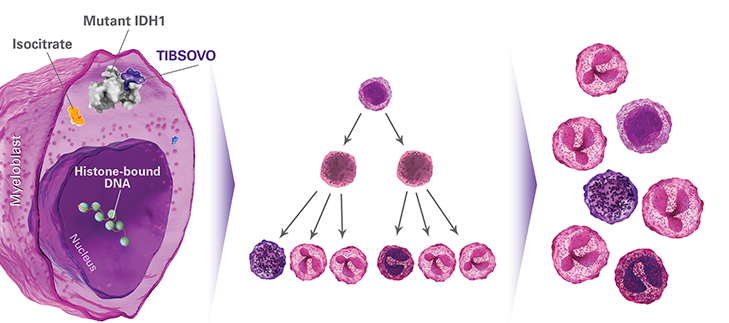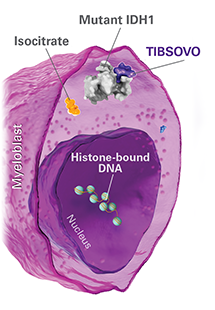 A more typical metabolic environment is restored
Levels of 2-HG decrease, and DNA and histone methylation is normalized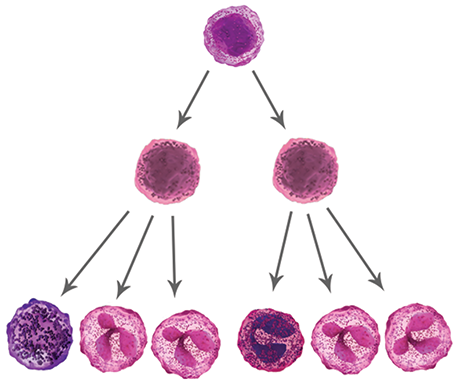 The block on myeloblast differentiation is released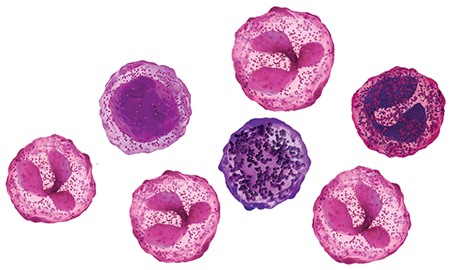 Differentiation of myeloblasts into mature blood cells occurs
In blood samples from patients with AML with mutated IDH1, ivosidenib decreased 2-HG levels ex-vivo, reduced blast counts, and increased percentages of mature myeloid cells7
Ivosidenib was shown to inhibit selected IDH1 R132 mutants at much lower concentrations than wild-type IDH1 in vitro7
Susceptible IDH1 mutations are defined as those leading to increased levels of 2-HG in the leukemia cells and where efficacy is predicted by (1) clinically meaningful remissions with the recommended dose of ivosidenib and/or (2) inhibition of mutant IDH1 enzymatic activity at concentrations of ivosidenib sustainable at the recommended dosage according to validated methods7

Susceptible IDH1 mutations are R132C, R132G, R132H, R132L, and R132S7